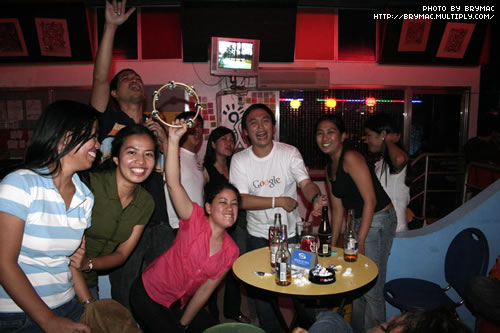 Last May 11, we had a soft launch for our Pisay '96 Book Drive at the BL_E Without U Bar with our band Pop Ratio doing some songs. Yes, this is the same project as the internally nicknamed "Albert Camacho Book Drive."
The turnout was surprisingly good with several batchmates (plus friends) making it to the evening's events, especially with the presence of some who pleasantly surprised us with their sackful of books (ikaw yun Ispok!) and humanely–touching ideas (at ikaw yun Jao!).
The fun night started with the almost–impromptu Pop Ratio concert with Jonas, Markku, and Marc (Carlo Inting's younger brother) playing some of their trademark covers, and then some. A very crude bootleg of their performance is this episode's second track, recorded from a mobile phone with all the ambient noises included, free of charge! (Syempre dahil sa sobrang gigil putol na agad yung string ng gitara ko, pero okay lang kasi hindi naman ako rinig sa recording, hehehe. –Markku)
The night's second part was a never–ending videoke fest and party, better explained through BryMac's photos of the evening.
This episode's main podcast includes several batchmates, in fact the most we've had since the very first episode. Pagpasensyahan nyo na kung masyado na kaming bibo sa pagsasalita, at limang san mig light na yata ang minimum ng lahat dyan eh, hehehe.
Seriously, we now have two projects in the pipeline, namely the book drive and the maximum security concert slated for sometime next month. We are working with Rock Ed Philippines for both projects to further maximize our resources and effectively reach our collective goals. For more details, please do listen to the podcast.
And yes, Episode 4a was actually recorded after Episode 4b. Go figure. :D
Next time punta ka ha, dadating daw crush mo.