Pisay 96 launches its 2nd Basura Drive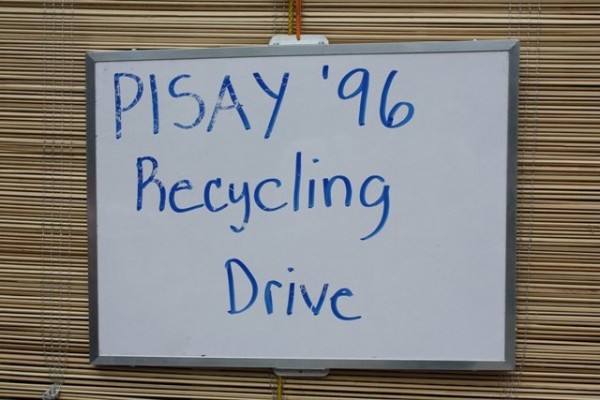 For the second time, we are collecting recyclable materials and will be exchanging them for school supplies to be given to school kids in need. Help us out by donating your junk. We are accepting the following recyclable materials:
• Scrap paper, old newspaper, carton boxes or cardboard scraps
• Old notebooks and books
• Empty PET bottles, plastic cups, scrap plastic
• Glass bottles, beer, softdrink, catsup bottles
• Aluminum and tin cans, aluminum bottle caps, GI sheets, scrap metal
• Empty ink cartridges
• Junk electrical appliances
• Used batteries
• Other recyclable materials
How you can help:
Our volunteers will be at the parking lot of the Dr. Juan dela Cruz Medical Specialists' Clinic at 480 Boni Ave., Brgy. New Zaniga, Mandaluyong City (in front of Shell gas station) on April 22 to receive donations. You may drop by and bring your recyclables anytime between 10AM to 3PM. We will be announcing the venue of other drop-off points, on the succeeding weekends.
We can also arrange for a meet-up or a pick-up at a location and time more convenient for you. Please send as a message through e-mail ([email protected]) or mobile (09204469728). You may also contact anyone from Pisay 96 to set a schedule.
We can also collect recyclables from your offices. If you're interested, let us know and we will send a letter to whoever's in charge, asking for your office's used paper and other junk.
We look forward to your usual support.
Maraming salamat! :D
Please help us spread the word by sharing this note to your friends.
Click here for a short summary of the 1st Pisay 96 Trash Drive.