Pasukan na bukas. With your support, 85 school children from the SOS Children's Village in Bataan will be going to school tomorrow not only with brand new pens, papers, and notebooks but more importantly, with hope, inspiration, and the encouragement to realize their potentials and become productive members of society.
In behalf of the children of SOS Village—Bataan, we would like to thank you all for your generous assistance which largely contributed to the success of this project. Now that we've seen it is possible, Pisay '96 plans on doing this project for the succeeding school years and reach out to more school children in other areas of the country. We look forward to your continuous support.
Maraming salamat po.
---
Collection
A few weeks before the school year started, Pisay '96 posted announcements asking for donations of recyclable and junk materials. For two consecutive weekends, D' Cape Mile restaurant in Mo. Ignacia Avenue, Quezon City, was designated a drop–off point where people who wanted to help came and brought their donations. In addition, volunteers also went around Quezon City and San Juan to pick–up donations from friends and supporters who have heard about the project.
The collected recyclables were sold to junk shops and the profits were used to buy notebooks, pens, pad papers, and other school supplies. Modest back–to–school kits were assembled with their contents tailored to fit the students' specific grade levels.
Turn Over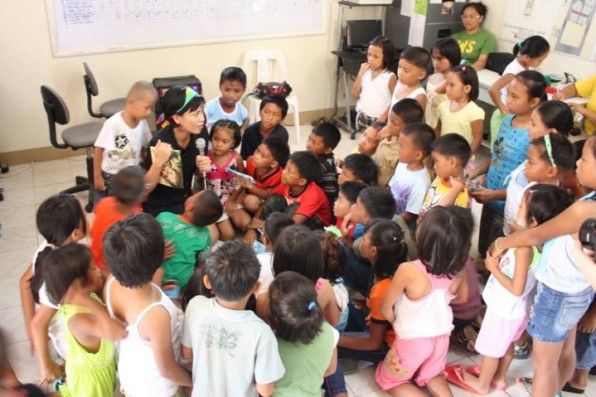 On June 12, 2010, the weekend before school started, Pisay '96 volunteers went to Mariveles, Bataan to personally turn over the school supplies to the children of the village. The SOS Village in Bataan houses 93 children from all over Central Luzon, 85 of whom go to school in the nearby barangay. All 85 schoolkids, with grade levels ranging from pre–school to 3rd year high school, were provided with materials to help them get ready for the start of the school year.
About SOS Children's Villages
SOS Villages house orphaned, neglected, and abandoned children. They provide long–term family–based care and education to children in extreme difficult circumstances, giving them inspiration, support, and encouragement they need to be able to take their place in society.
The first SOS Children's Village in the Philippines was established in Lipa City in 1963. To date there are a total of 8 Children's Villages in cities and provinces across the country.
To know more about SOS Children's Villages or to find out how you can help, please visit www.sosphilippines.org.
About Pisay '96
Philippine Science High School scholars received premier education in the sciences to help in the nation's development. Since its 10th jubilee anniversary in 2006, the Philippine Science High School Class of 1996 (Pisay '96) has been conducting socio–civic projects in communities across the country, as a sign of gratitude and return to the nation.
To know more about other Pisay '96 projects and activities, please send an e-mail to [email protected].